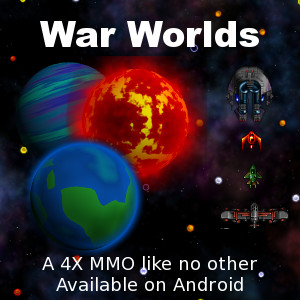 War Worlds is Android-based space strategy multi-player game. The game is set in an infinitely-large universe where players occupy their own region of stars. Players interact via in-game chat, form alliances and wage war on an epic scale.
As of April 2014, War Worlds has around 1,500 7-day active users and is continuing to grow.
The technology behind War Worlds is varied and complex. The server is a Java application, utilizing Jetty for an HTTP interface. Nginx is used as the front-end to provide a secure SSL interface to the game client. The game client is built using a combination of Android technologies, including andengine, a 2D OpenGL ES library for improved graphics performance.